"Rosalind Alexandrina" is a 15 pack SCUBA diving charter boat that runs recreational dive trips to some of the best local wrecks and reefs on the Southern & Western coastlines. We only take a maximum of 10 divers.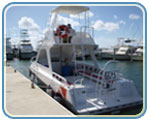 Custom built for JADS Dive Center, our 36 ft., 15 person dive charter boat is specifically designed to handle offshore open ocean water conditions. Our vessel has gone through a series of custom fabrications to create what today is the perfect dive boat! With a stabilization bar to the dive platform, a deep 4-step angled dive ladder and custom bench style tank racks, diving is made safe & easy on our Custom Dive Boat.
What safety equipment is onboard the dive boat? Our dive boat is equipped with a cockpit VHF radio, onboard depth finder, life ring, life vests, first aid kit and an emergency oxygen delivery system.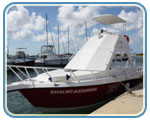 Additional Boat Amenities: emergency toilet, large camera bucket, snacks and freshwater.
Where is the Boat Docked?
The boat is docked at the Varadero yacht club located behind the airport. When you get to the Marina you can drop off your gear at the boat and then you will need to find a place to park in the parking lot. Please be at the dock at 9:00am for the morning 2 tank boat dives.
Where is the Boat Docked?